Concluso il trasferimento di prestito a Barcellona Pozzo di Gotto per Milos Stakic, il nostro Milos dopo tre stagioni con Scuola Basket "vola" in Sicilia dove inizierà il percorso di completamento delle sue doti tecniche e fisiche. A Barcellona farà roster con la locale serie B e contemporaneamente si cimenterà nei campionati di serie D e under 20 Siciliani completando così la formazione italiana partita nella stagione 2014-2015.
A lui il nostro in bocca a lupo per la sua futura carriera cestistica
UFFICIO STAMPA SBDB
Di seguito l'articolo e il link apparso sul sito dell'agenzia che ne cura la carriera.
http://sportsleaderagency.net/news/90-milos-stakic-a-hot-prospect-player-from-bih-signed-a-contract-with-basket-barcellona-from-serie-b
Milos Stakic, a hot prospect player from BIH, signed a contract with Basket Barcellona from Serie B
BY MILOS
JULY 31ST, 2017
HITS: 450
Young hot prospect player, Milos Stakic, signed a contract with team from Sicily, Basket Barcellona from Serie B.
Milos is 18 years old. He is born in 1999 in Mrkonjic Grad, Bosnia & Herzegovina.
He is 206 cm tall and plays best as center.
Milos was the part of the team Diego Bologna La Spezia for the last three years where he was trained by a great coach Massimiliano De Santis. We would like to thank the team Diego Bologna La Spezia and their coach, Massimiliano De Santis, for helping Milos to become a better player.
Basket Barcellona continues the tradition of bringing players from the republics of the former Yugoslavia, after David Paunovic, Bogdan Milojevic and coach Milan Nisic.
We are very happy that Milos will have a chance to develop his game and skills in such a great club like Basket Barcellona, and we hope that he will do well for the team.
Good luck Milos!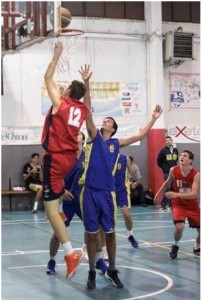 –